Realistic Wigs: 7 Reasons Why Your Wig Doesn't Look Real
So you've finally got your hands on your dream wig and you just can't wait to show it off. The only problem is, once you have it on, it doesn't look as flawless as you thought it would because realistic wigs are key for the best look. For some reason, it looks less Yass and more like Pass. Lucky for you, we've rounded up 7 reasons why your wig doesn't look real and how to get it looking its best.
1. It's not the right size 
One of the biggest tell-tale signs of a poor wig is one that doesn't fit. Whether it's too small or too big, an ill-fitting wig is a big 'no' when it comes to wearing wigs so make sure you always measure your head to make sure you're buying the right size unit.  
If you're into making your own wigs, measuring your head and making sure you buy the correct size dummy to construct your wig on will save you plenty of hassle down the line. We love this Canvas Mannequin Head from Amazon as it comes in a range of different circumferences which means there's a size suitable for everyone! 
2. It doesn't match your leave out
If you're not into a full wig and prefer U-Part or half head styles, making sure your natural hair matches the hair on the wig and vice versa is non-negotiable if you want a natural look.
Either go for a wig style that closely matches your natural hair or consider any styling you might have to do to your natural hair so it matches the wig.
But don't forget, excessive heat manipulation isn't the best for your natural hair or your wig so don't overdo it on the styling and your hair will thank you.
3. You don't have the right foundation 
Making sure the hair underneath your wig is taken care of is key to realistic wigs and the long term health of your hair. 
Braiding or twisting hair underneath is a reliable and popular way of protecting natural hair beneath a wig. 
Different methods work for different people so we suggest you try out different styles to help you decide what's best for you. If you're stuck on which style to try first, try some simple cornrows and no matter the style, don't forget to always wear your wig with The Wig Fix—the best way to secure your wig. 
4. Your parting 
Just like a picture, a parting can say a thousand words. When wearing a closure or frontal, make sure your parting isn't too big or too thin and that the lace has been bleached of knots for a more natural look.
5. It's too shiny
While we all love hair that has a healthy sheen, too much shine can make your wig look more plastic than fantastic. This applies especially to synthetic wigs so to offset this, try spraying your wig with some dry shampoo to get rid of excessive shine.
There are plenty of choices available when it comes to dry shampoo and Batiste's Original Dry Shampoo is a tried and tested favourite available on Amazon.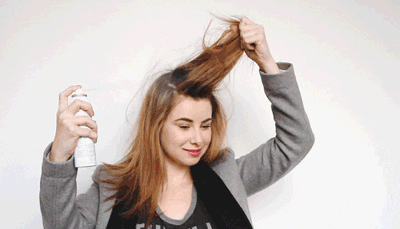 6. It's poorly made
Maybe it's the hair itself or maybe it's the construction method but a poorly made wig is easy to spot and might be the reason why yours doesn't look as real as you'd like. 
When buying a new unit, do your research into the seller; read reviews, go through their tagged social media images, ask them questions directly. Doing these things helps you ascertain whether the hair being sold is as high quality as advertised. 
If you're into making your own wigs, there are plenty of resources online especially on YouTube to help you create a high-quality wig at home. And if you're still feeling stuck, consider attending a wig masterclass. These are becoming more readily available all over the world so you're bound to find someone near you who offers masterclasses or 1:1 sessions.
7. It's (too) well loved
You can follow every tip in the world to make your wig look as realistic as possible but sometimes, a unit has just run its course and it's time to find a replacement unit. But if you start off with a well-made, human hair wig and make sure to look after it, it should last you a few years before it's needs a replacement. 
Have any more tips on how to make your wig look more realistic? Leave them below and join more conversations through our social channels!
*The Renatural is not affiliated with any of the products or companies listed in this post. 
---