Understanding Human Hair Grades - What Are They And What Do They Mean?
From complete beginner or seasoned wig-wearer, hair grading on human hair extensions like bundles, wigs and pieces can leave you more confused than enlightened. To help you out, we've put together this quick-fire guide on human hair grades and what to look out for when you purchase your next set of extensions. 
What Is It? 
The hair grading system was created in the early 2010s by hair extension suppliers as a way to determine the quality of hair sold to buyers and to set their companies apart from those that might have been selling lower-quality hair.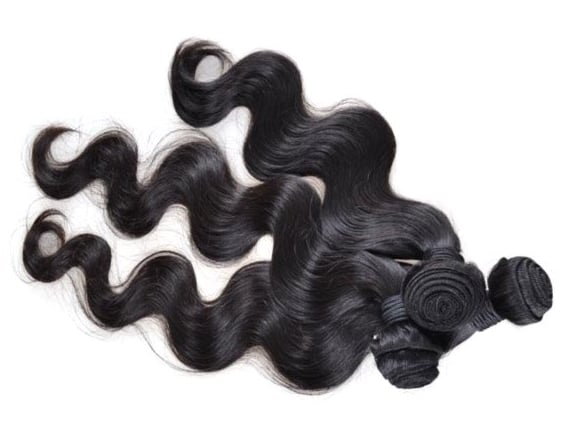 Image | Hair Bundles via Unique Creations By Nat
What Are The Grades?
3A, 4A, 5A, 6A, 7A, 8A, 9A 10A
Those are the human hair grades currently being used within the industry 3A being the lowest quality hair and 10A the highest. This article by Airy Hair provides a complete overview of the qualities to expect from each grade. 
Has The Grading Always Been The Same?
No. Early on in the system, 5A hair was considered high quality but as technology evolved to produce better quality hair and customers have become shrewder, 5A hair is now considered to be medium quality hair. 
Is The System Regulated? 
No. There is no formal regulation for the hair grading system which means that unfortunately, a lot of sellers will advertise hair as being higher quality than it is. Considering most hair is sold to customers online, this makes it difficult to ascertain whether the hair is actually as high quality as advertised, until you get it into your hands.
Is There A Price Difference Between Grades?
Yes. As with most things in life, higher quality often translates to higher price and the grading system is no different. It is important to note, however, that because the system is unregulated, paying more for hair doesn't always mean you'll get the highest quality.
How Do I Know What Grade Look For? 
What hair grade you should consider is completely up to what you need from your hair. The higher quality hair you want, the higher a grade you should look out for to start. If you're looking for a true budget option but still want some quality, you should start at 6A. If you're looking for 100% virgin hair, don't look for anything less than grades 8A or 9A.
But, and this is a big but, don't rely solely on the grades. As mentioned above, lack of regulation means that some suppliers bump their products up a few grades so if possible, also look for reviews either directly on the website, through google and/or YouTube. 
Are There Any Other Qualities I Can Look For? 
Absolutely and we recommend considering them alongside the hair grades and not just relying on one or the other. Other qualities to look out for when buying hair are: 
Remy Or Non-Remy
Remy hair means all the cuticles in the hair remain intact and facing in the same direction. This means the hair is less likely to shed/tangle. 
Wefting Style
Double wefted hair is less prone to shedding and can, therefore, last longer.
Hair Type
Look for 100% human hair. And if it's from a single donor (all the hair came from one person), it's more likely to be of higher quality
Weight
The weight of a bundle of hair is indicative of how much hair you get within the bundle. Generally, one bundle should be between 95-100 grams.
Chemical Treatments
This is especially important if you're looking for 100% virgin hair. If you see hair advertised as 100% virgin but also see mentions of it being chemically treated, you're being lied to so run, sis. 

We hope this has cleared up any confusion you might have had over hair grades and if not, head over to our social media pages and send us a message and we'll be happy to answer any questions you have. Seriously, we could talk hair for hours. 
Now that you've got this hair grade thing on lock and are ready to make your next wig, make sure you check out our blog on How To Make Your Wigs Look Insta Ready.
Find us on social media:
Instagram | Twitter | Facebook
---
---